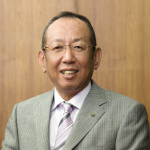 Kotaro Kake
Chairman,
Board of Trustees
Kake Educational Institution founded three universities (Okayama University of Science, Kurashiki University of Science and the Arts, and Chiba Institute of Science), one senior high school (Okayama University of Science High School), one junior high school (Okayama University of Science Jr. High School), and two vocational schools (Okayama University of Science Vocational School, Tamano Institute of Health and Human Services).
Each school was set up in the spirit espoused by our founder Tsutomu Kake: "To draw out the talents and abilities of the youth to their maximum potential and foster individuals who shall contribute to society as professionals in their fields and as responsible members of society," and, "To develop a unique education and research activities on par with technological advancement and meeting the ever-changing needs of society."
As we are well into the 21st century, years, decades, centuries of demand placed our natural environment has created complications in aspects of daily living. In response to this trend, academia must put forth an education supported by a responsible curriculum which promotes an awareness that necessitates a shift in the way society lives. This requires an educational environment that reflects such an awareness and open to constant changes and improvements. Kake Educational Institution is dedicated to making these efforts.
Along with Kake Educational Institution, all institutions under the umbrella of the Kake Group work together to share new discoveries and information. We humble ourselves with the idea that this kind of educational system that is set up to lend guidance and support to those who shape the world of tomorrow a quite unique and difficult to find elsewhere. Our educational institution strives to make the most of what modern education has to offer and I firmly believe we put those tools to effective use.